OUR PURPOSE
WE ENVISION A WORLD WHERE PEOPLE ARE LIVING MEANINGFUL, PROSPEROUS, AND FULFILLING WORK LIVES THAT NATURALLY GIVE RISE TO THE CREATIVITY, ENGAGEMENT, AND COLLECTIVE INTELLIGENCE NEEDED TO BUILD A HEALTHY AND SUSTAINABLE WORLD
Organizations that learn to leverage the power of behavioral diversity to create healthy, engaged and high performing human systems will outstrip their competition.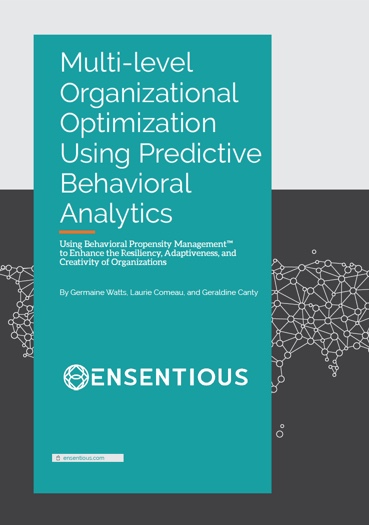 Further Exploration Through Our White Paper
Our White Paper identifies the major causes of chronic disengagement in the workplace and outlines a groundbreaking improvement approach that successfully aligns and integrates the need for organizational performance with the need for meaning, passion and purpose in individual lives.
Aligning Meaning, propensities and systems
Ensentious is a transformation partner dedicated to the development of healthy, higher performing human systems, one person, one team, and one organization at a time. Ensentious puts the heart and soul back into work by helping:
Individuals identify right-fit career directions to increase satisfaction, success and realization of career potential

Teams recognize and leverage propensities to enhance teamwork and group functionality against mandate and expectations

Organizations optimize aggregate workforce efficiency to enhance employee engagement, structural agility, and overall business performance

Leaders cultivate the relational and moral courage needed to build trustful, resilient, and willingly adaptive human systems

Members at every level connect with the joy in work, collaboration, and community
HOW WE CAME TO BE
Ensentious was born out of a shared passion for understanding how people work and what leads to satisfaction, success and fulfillment for individuals and organizations. We evolved our thinking through research, writing, and lesson-learned from three decades of helping executives implement leadership development programs, culture change initiatives, formalized management systems, and technology improvements in a wide array of industry sectors. Well intended, well designed and well executed, all these programs ultimately encountered the same basic dilemma – people do not like to be 'changed'. This is true at every level in organizations and gave rise to a fundamental question: How can organizations work with the natural passion, potential, and desire for fulfillment in people, instead of unknowingly pursuing practices that so often go against it? What was born is a robust conviction and methodology that makes a win-win approach possible.
What we do: oPTIMIZING HUMAN SYSTEMS FOR THE BENEFIT OF EVERYONE
We are successful because our focus is on surfacing talent, matching talent to task to build motivation and momentum into human systems, and aligning it all with the strategic direction of the organization. Shifting thinking from how to minimize investment in the workforce, to unleashing the intrinsic motivation of the human system, is a big step that opens new organization performance improvement territory.
Our methods are anchored in predictive behavioral analytics and powerful functionality models that help improve effectiveness and efficiency at every level of the human. For us, success is seeing people at their best in sustainable, profitable and resilient organizations.
Discover how organizations can work with the natural passion, potential, and desire for fulfillment in people, instead of unknowingly pursuing practices that so often go against it!
Here is an overview of our site